Digital Transformation (ZZ-1103)
Published in School of Digital Science, Universiti Brunei Darussalam, 2022
This lesson is from Digital Transformation Handbook by John Palfreyman and Introduction to Digital Transformation by Thomas M. Siebel.
Terms
Digitization

creating a digital representation of physical objects.

itself may not have business value, however, lays the foundation for business cases that leverage the data
it enables to create business value.

Digitalization

enabling, improving or transforming business process by leveraging digital technologies (e.g., APIs) and digitized data.
business value of digitalization is efficiency

cost reduction
speed
simpler business processes

Digital transformation

transforming business activities, competencies, and business models to fully leverage the opportunities of digital technologies
creating new business models and adapt to market need

Example: Employee timesheets: from Paper-based capture to a digital workflow

Timesheets are filled in on a paper form

now, photographed on a smartphone and emailed to head office
create a mobile app or web app to get the data of time worked
online data is fully integrated with forecasting, billing and project management systems

The strategic value increases as we move up the stack from digitization to digital transformation
What is Digital Transformation?
arises from the intersection of

cloud computing
big data
IoT
AI
Blockchain
…

is vital to industries across the market today
is not a series of generational changes in
is not simply the migration of a company's processes, data, and information onto
Idea is to explain how companies can tackle digital transformation and avoid extinction

particularly imperative for large incumbent organisations
The First Wave: Digitalization
Before arrival of PC (before 1980s)

Mainframes

centralized computing
controlled by administrators
need to reserve time
mostly used to perform calculations

Arrival of the PC

great flexibility
workers could control their schedules and get work done more efficiently
tasks like

word processing (WordStar, WordPerfect, and Microsoft Word)
graphic design (Corel Draw, PageMaker, Adobe Illustrator)

email systems, communications transformed
spreadsheets, and databases
worker productivity - desktop applications, email, operating systems with graphical user interfaces, lower-cost computers, modems, and laptops
Annual global GDP growth shot up from 2.5 percent between 1989 and 1995, to 3.5 percent between 1995 and 2003—a 38 percent increase in the rate of growth.
Digitalization made work easier, more accurate, and more automated
The Second Wave: The Internet
ARPANET

The Advanced Research Project Agency (ARPA, now known as the Defense Advanced Research Project Agency, or DARPA) was created in 1958, during the height of the Cold War.
The U.S. was increasingly concerned about a potential Soviet Union attack to destroy the U.S. long-distance communications network.
In 1962, ARPA and MIT scientist J.C.R. Licklider suggested connecting computers to keep communications alive in the event of a nuclear attack.
This network came to be known as ARPANET

NSFNET

In 1986, the public network (National Science Foundation Network, or NSFNET) was separated from the military network, and connected university computer science departments.
NSFNET became the internet backbone, linking emerging internet service providers (ISPs).

Internet

Then came the hypertext transfer protocol (HTTP), the World Wide Web, the Mosaic web browser, and the broadening of the NSFNET for commercial use. The internet was born.
The early instances of the web—such as the home pages of Yahoo! and Netscape—consisted of mostly static pages and a read-only, passive user experience.

Web 2.0

In the early 2000s, the emergence of Web 2.0 brought usability improvements, user-generated data, web applications, and interaction through virtual communities, blogs, social networking, Wikipedia, YouTube, and other collaborative platforms.
The first years of the internet caused disruption in business, government, education—every aspect of our lives.
Innovative companies streamlined processes, making them faster and more robust than their analog counterparts.
Automated human resources and accounting systems meant employee services and payroll operated faster and with fewer errors.
Companies interacted with customers according to rule-based insights from customer relationship management (CRM) systems.
Before the internet, booking a vacation required human travel agents and potentially days-long planning spent poring over itineraries. And travel itself involved the hassle of paper itineraries, tickets, and maps.
Consider pre-internet retail: physical stores, paper coupons, mail-order catalogs. Or pre-internet banking: trips to the branch office, paper checks, and jars of change.
Investors scanned newspaper stock columns, spent time at the local library, or contacted a company directly to have a copy of the latest financial report sent to them by mail.
With the internet, these industries reaped enormous productivity boosts, and winners and losers emerged.
Travel can now be booked via an app, providing instant mobile passes and tickets. Hotels can be compared on social sites. And a new "gig economy" emerged with apps for hiring cars, renting rooms, taking tours, and more.
Retail became virtually frictionless: a global marketplace for mass merchandise and artisan handcrafts, one-click purchasing, scan and buy, almost anything delivered, faster supply chains for faster trend-to-stores, customer service via Twitter.
Many new brands have emerged, and many (both old and new) have disappeared, as companies experimented with e-commerce and digital transactions.
In all these cases, processes were streamlined, but not revolutionized: they were the same analog processes, duplicated in digital form. But these market disruptions nonetheless caused shifts among companies, organizations, and individual behavior.

Web 3.0

Third generation of internet services for websites and applications that will focus on using a machine-based understanding of data to provide a data-driven and Semantic Web.
Source: Fabric Ventures
The Impact of Two Waves
Most of these productivity advancements typically fell under the control of an organization's traditional information technology (IT) function.

spurred productivity by using digital technologies to work more effectively and efficiently.
replaced human hours with computing seconds and dramatically streamlined the user experience across many industries.
The 1990s through early 2000s saw the rise of the chief information officer (CIO) as an important driver of innovation.
Most organizations started by digitizing non-real-time departments, where productivity gains were relatively low risk.
Employee services such as HR were a relatively easy lift.
Accounting was another early adopter, where decades of data processing underpinned the successive adoption of client-server applications, data center capabilities, and ultimately cloud solutions.
Automation of customer-facing functions with CRM was another large step for organizations: internet sites enabled customers to research, buy, and access service via the web.
Some industries that rely heavily on information systems, such as finance, digitized core parts of their business early and rapidly, because the competitive advantages were extremely clear.

For example, banks moved to high-speed trading where milliseconds could mean real money.

They invested aggressively in data centers early on to provide speed and scale for bankers, along with flexibility and service for customers.

More recently, the chief marketing officer (CMO) has been frequently seen as the locus of digital transformation in many larger companies.

A 2016 survey found that at 34 percent of large enterprises, ownership of digital transformation resided with the CMO.
This is likely because other business operations, such as sales, HR, and finance, have already digitalized with tools like CRM and enterprise resource planning (ERP).
Marketing was one of the last support functions to digitalize.
The productivity gains from each of these transitions were significant and measurable.
Faster internal communications and improved decision making, smoother supply chain operations, increased revenue, better customer service, and higher customer satisfaction were just some of the benefits companies reaped from the rise of Web 2.0 technologies.

The impact of both the internet and the wave of digitalization that preceded it was primarily to digitize existing competencies.

They were simply outsourced to a new worker: computers.

But neither wave fundamentally changed the processes being replaced. They were just that— replacements.

Think of airlines digitizing reservations and tickets, banks providing electronic account information and services, and Walmart digitizing its supply chain.

"Digitization was using digital tools to automate and improve the existing way of working without really altering it fundamentally or playing the new rules of the game," says technology strategist and veteran industry analyst Dion Hinchcliffe.

Digital transformation:

"is a more caterpillar-to-butterfly process, moving gracefully from one way of working to an entirely new one, replacing corporate body parts and ways of functioning completely in some cases to capture far more value than was possible using low-scale, low-leverage legacy business."
Simply investing in technology to digitize existing functions and processes is not enough to truly transform a company or industry.
It's a necessary ingredient, but not sufficient. Digital transformation demands revolutionary changes to key competitive corporate processes.

Pharmacies are a good example:

Walgreen's and CVS have innovated with conveniences for customers to refill or check a prescription's status using an app, or to order medications by email.
But they could be disrupted by newcomers, as we saw in early 2018 when Amazon, Berkshire Hathaway, and JP Morgan announced their intent to enter the market.
Stocks of existing health care companies dropped in response to the news.

Banks

invest heavily in IT and have dramatically improved customer service with flexible capabilities and tailored offerings.
But they too face competition from upstarts like Rocket Mortgage and LendingTree in the U.S. and companies like Ant Financial and Tencent in China.
The way to maintain leadership is to innovate. Charles Schwab president and CEO Walt Bettinger notes that "successful firms disrupt themselves."
One notable example is the e-payment system Zelle, from Early Warning Services, that is owned jointly by a group of banks including Bank of America, BB&T, Capital One, JPMorgan Chase, PNC Bank, US Bank, and Wells Fargo, among others.
Zelle is an industry response to a surge of offerings from non-traditional entrants—including Venmo (owned by PayPal), Apple Pay, and Google Pay—into the $2 trillion global digital payments market.
Since its launch in 2017, Zelle has surpassed Venmo as the leading U.S. digital payments processor by volume.
Evolutionary Adaptation
Digital transformation

disruptive evolution into an entirely new way of working and thinking.
And this process could require a full transformation of corporate body parts for new ways of functioning.
It is for this reason that we see so many legacy businesses failing and already becoming extinct.
They find it difficult to engineer radical new processes because they rely so heavily on current ones.
And it is why digital transformation can be so frightening:

Companies must shift their focus:

from what they know works and invest instead in alternatives they view as risky and unproven.
Many companies simply refuse to believe they are facing a life-or-death situation.

This is Clayton Christensen's aptly named "Innovator's Dilemma": Companies fail to innovate, because it means changing the focus from what's working to something unproven and risky.

Threats

The threats emerge with the rise of companies using the newest tools, technologies, and processes, without the burdens of previous generations.
Threats can also arrive via competitors with a clear vision and focus.
Often this comes with founder-led organizations—Jeff Bezos at Amazon, Elon Musk at Tesla, Reed Hastings at Netflix, Jack Ma at Alibaba, and Brian Chesky at Airbnb, to name just a few.
But a potential threat could also come from a CEO at a large, existing company, with the vision and support to make needed changes.

Why innovate when the current operations are doing so well

Larger, established companies tend to become risk-averse
When Apple introduced the iPhone, it was dismissed by Nokia and RIM, among others.
Apple was performing poorly at the time, spurring it to take chances.
Nokia and RIM did not feel the need to innovate. Which company is thriving today?
Think of Henry Ford's horseless carriage. Think of Walmart eating Main Street. And now, Amazon is eating Walmart.

Today, cloud computing, big data, IoT, and AI are coming together to form new processes, too.

Every mass extinction is a new beginning.

Changing a core competency means removing and revolutionizing key corporate body parts. That's what digital transformation demands.

Companies that will survive through the era of digital transformation are those that recognize that survival is survival, regardless of how it happens; that environments change and resources fluctuate rapidly.

If a company is reliant on a single resource, then it will not survive because it cannot see the great opportunity to revolutionize and breathe new life into its core abilities.
Digital Transformation Today
Today, digital transformation is everywhere. It's one of the biggest buzzwords of the past few years.

Digital transformation is being talked about by everyone, including the C-suite, governments, policymakers, and academia.

Digital transformation goes by many different names. Perhaps the most familiar is "the fourth Industrial Revolution."

Past revolutions occurred when innovative technologies—the steam engine, electricity, computers, the internet—were adopted at scale and diffused throughout the ecosystem.

We are approaching a similar tipping point—where cloud computing, big data, IoT, and AI are converging to drive network effects and create exponential change.

Others refer to digital transformation as "the Second Machine Age. MIT professors Erik Brynjolfsson and Andrew McAfee argue that the crux of this machine age is that computers—long good at following instructions—are now able to learn.

Extensively predicted, this capability is going to have dramatic effects on the world.

Computers will diagnose diseases, drive cars, anticipate disruptions in supply chains, take care of our elderly, speak to us —the list goes on and on, to things we haven't even thought of yet.

The first Industrial Revolution

allowed humans to master mechanical power.

In the last one

we harnessed electronic power.

In the era of digital transformation

we will master mental power.

Digital transformation is rapidly becoming a focus in the corporate world—from the boardroom, to industry conferences, to annual reports.

The Economist Intelligence Unit recently found that 40 percent of CEOs place digital transformation at the top of the boardroom agenda.

But there is no uniform way in which CEOs are thinking about this.

Leaders who focus on digital transformation understand that to survive, their companies will have to go through a fundamental change. And they are being proactive about that change.

Ford's CEO Jim Hackett, who recently announced, "Ford will prepare for disruption by becoming fit. There's no doubt that we've entered this period of disruption, you all know that…. Disruption is often referred to, but is not easily understood. It's like the thief in the night that you didn't expect, but it can steal your livelihood. And it doesn't wait for businesses to be in the best shape to deal with it either."

Nike CEO Mark Parker: "Fueled by a transformation of our business, we are attacking growth opportunities through innovation, speed and digital to accelerate long-term, sustainable and profitable growth."

Revolutionaries exist in the public sector, too.

The U.S. Department of Defense has invested tens of millions of dollars in its Defense Innovation Unit (DIU) to build ties with Silicon Valley and the commercial tech sector.

DIU is set up to fund innovative startups with proprietary technologies:

It funds transformation projects, like launching micro-satellites to provide real-time imagery of U.S. troops on the ground;
developing self-healing software that uses AI to identify and fix code vulnerabilities;
testing aircraft with AI-based simulations;
using AI to manage inventory and supply chains; and
applying AI to perform predictive maintenance on military aircraft, identifying failures before they happen.

In Europe, ENGIE, a French electric utility company

has made digital transformation a key strategic priority,
"convinced that a new industrial revolution driven by the worlds of energy and digital technology is now under way."
Under the bold leadership of CEO Isabelle Kocher, ENGIE has embarked on this effort across virtually every aspect of its operations and services:

digitizing billing services and customer energy use self management;
analyzing energy efficiency savings through the use of smart sensors;
optimizing energy generation from renewable sources; and
establishing its Digital Factory to unite data scientists, developers, and business analysts to propagate digital transformation techniques across the enterprise.

But others take a narrower view—simply treating digital transformation as their company's next IT investment, or the next wave of digitalization.

For example, some senior executives view it only as a necessary shift in customer interaction.
An IBM Research survey in early 2018 found that "68 percent of C-suite executives expect organizations to emphasize customer experience over products."
Asked which external forces will most impact them, C-suite executives listed changing customer preferences at the top.
This narrow view is insufficient and dangerous.
While they may recognize what digital transformation is, they show no sense of urgency.

One 2018 study noted

that fully one-third of C-suite executives reported little or no impact from digital transformation in their industries, and
almost half felt no urgency to evolve.
They either don't see the massive change hurtling toward them or don't understand how quickly and overwhelmingly it will show up.

Some CEOs understandably see digital transformation as a fundamental risk to their companies.

Size is not a guarantee of stability or longevity.
If large companies don't evolve, they can be replaced by smaller, nimbler upstarts.

JP Morgan Chase CEO Jamie Dimon sounded an alarm in the company's 2014 annual report:

"Silicon Valley is coming. There are hundreds of startups with a lot of brains and money working on various alternatives to traditional banking. The ones you read about most are in the lending business, whereby the firms can lend to individuals and small businesses very quickly and—these entities believe—effectively by using Big Data to enhance credit underwriting."

He is now breaking ground on a 1,000-employee Palo Alto campus to digitally transform fintech.

John Chambers, as he left his two-decades-long role as Cisco CEO and Chairman, delivered a keynote in which he presciently foretold:

"Forty percent of businesses in this room, unfortunately, will not exist in a meaningful way in 10 years. If I'm not making you sweat, I should be."

Geoffrey Moore's model of "context" versus "core" in business helps illustrate why transformation at the core is important.

Moore's model describes the cycle of innovation as it relates to both vital and support processes of a company.

"Core" is what creates differentiation in the marketplace and wins customers.

"Context" consists of everything else—things like finance, sales, and marketing.

No matter how well you do it or how many resources you put into context, it does not create a competitive advantage. Every company does it.

According to Moore: Core is what companies invest their time and resources in that their competitors do not.

Core is what allows a business to make more money and/or more margin, and make people more attracted to a business than to its competitors.

Core gives a business bargaining power: it is what customers want and cannot get from anyone else.

In his book Dealing with Darwin, Moore uses the example of Tiger Woods to clarify core and context.

There is no debate that Tiger Woods's core business is his golfing, and his context business is marketing.
While marketing generates a large amount of money for Woods, there could not even be marketing (the context) without his golfing (the core).
Context helps to support and keep the core running, while core is a company's competitive advantage.
The general rule of thumb: Context means outsourcing, while core means intellectual property.

Today's companies and industries:

have already replaced most if not all of their context competencies with digital counterparts.

But their core remains to be digitalized.

Core cannot simply be replaced with something that works the same but has a shinier finish or faster engine.

Digitalizing core is a true transformation.

Digital transformation

demands a complete overhaul of core processes and capabilities.
It demands a removal of corporate body parts with the promise not to replace them but to instead create something faster, stronger, and more efficient that can do the same job in a totally different way—or do entirely new things.
Because digital transformation goes to the core of corporate capabilities, it can only happen when change is empowered to pervade the entire organization—not just at the IT, marketing, or any other business-line level.
It can't be dealt

with just as a technology investment, or as a problem with a particular business process or department.
It requires fundamentally transforming business models and business opportunities, and the CEO needs to drive it.

The mandate must come from the top.

With the promise of performance improvements and productivity increases, such innovations were introduced to industry through the IT organization.

Over months or years, and after multiple trials and evaluations, each gained the attention of the chief information officer, who was responsible for technology adoption.
The CEO was periodically briefed on the cost and result.

With 21st-century digital transformation

the adoption cycle has inverted.
corporate digital transformations are initiated and propelled by the CEO.
Visionary CEOs, individually, are the engines of massive change.
This is unprecedented in the history of information technology—possibly unprecedented in the history of commerce.
Today, CEO-mandated digital transformation drives the company's roadmap and goals.
For such change to happen, the entire organization needs to be committed —from the CEO to the board to each function and line of business.
This change needs to proceed in a unified, holistic manner.

That's why the companies that will succeed are those that not only transform a business process, or a department, but also look at wholesale digital reinvention.

They take it so seriously that they create Centers of Excellence to bring together data scientists, business analysts, developers, and line managers from across the organization.
These Centers of Excellence can align the organization around digital transformation efforts, unify disparate departments, and grant employees the skills necessary to be successful in this effort.
"What are our customers really buying? Do they really need us, or could a digital competitor provide a better insight or product at a lower cost?"
They're using these "what if" scenarios to break out of cloistered mindsets and reallocate investments for future digital efforts.
Get Ready, or You'll Miss the Boat
Digital transformation indices:

are cropping up everywhere to capture how prepared (or unprepared) CEOs and their companies are.
The Dell Digital Transformation Index ranks

4,600 business leaders on their digital journey.

The McKinsey Global Institute (MGI) Industry Digitization Index ranks

U.S. sectors based on their degree of digitization/digital transformation.

Germany's Industrie 4.0 Maturity Index focuses on

companies in manufacturing.

The most compelling lesson from these indices confirms what we already know:

The gap between the companies and sectors that have digitally transformed and those that have not

is already wide and will increase exponentially.

In an extensive 2015 report, MGI quantified the gap between the most digitized sectors and the rest of the economy over time.

It found that "despite a massive rush of adoption, most sectors have barely closed that gap over the past decade":

The companies leading the charge are

winning the battle for market share and profit growth;
some are reshaping entire industries to their own advantage.
But many businesses are struggling to evolve quickly enough.
Workers in the most digitized industries enjoy wage growth that is twice the national average, while the majority of US workers face stagnant incomes and uncertain prospects.

The stakes are high.

Europe may either add €1.25 trillion of gross industrial value, or lose €605 billion of value by 2025, according to Roland Berger Strategy Consultants.

Once you miss the boat, it gets harder to catch up.

these indices show the massive size of the opportunity ahead.
Sectors in the earliest stages of digital transformation—like

health care and
construction—could be huge drivers of economic growth.

As McKinsey argues,

"Looking at just three big areas of potential—

online talent platforms,
big data analytics, and the
internet of things

—we estimate that digitization could add up to $2.2 trillion to annual GDP by 2025, although the possibilities are much wider."

Companies can now take advantage of robust cloud computing platforms like

Amazon Web Services,
Microsoft Azure,
IBM Watson, and
Google Cloud, to enable transformation initiatives.

Digital transformation consultancies are booming

as CEOs start to understand that disruption is coming, and scramble to position themselves against the coming tsunami.

The market for digital transformation consulting alone is worth an estimated $23 billion.

McKinsey, BCG, and Bain

have all built new digital consulting divisions, and many are acquiring digital and design firms to bolster their capabilities.

New, niche consulting firms are being created entirely to focus on digital transformation.

Since the emergence of the internet, the digital consultancy market has evolved with the successive waves of digitalization.

In the first wave

consulting firms began helping customers build their digital presence.

Then with Web 2.0

consulting firms focused on interactive design and customer experience.

Today, in the current wave of digital transformation

consultancies are helping clients use data to reinvent their business models.

We'll continue to see this shift in how firms engage with customers, collaborate with technology partners, and jump on this disruption wave.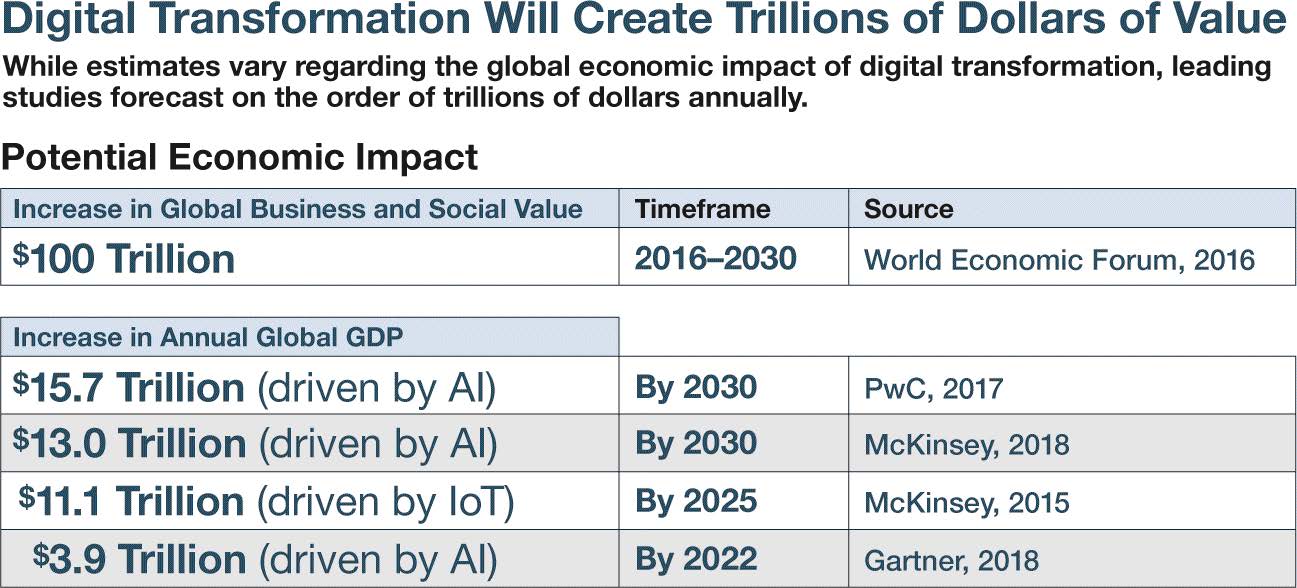 Governments, too, are focused on the need to evolve and stay competitive.

Nations have long competed

for skilled workers, jobs, companies, new technologies, and ultimately, economic growth.
This competition will only intensify, particularly as urbanization grows as a driving force in the public sphere.
As more people move to cities (68 percent of the world will live in cities by 2050), public infrastructure and resources—water and energy in particular—are being strained.

Governments that understand this are striving

to ensure the next wave of digital transformation happens in their own countries.
They are spurring investment in research and development, encouraging higher education in digital technologies, and implementing policies favorable to digitally transformed companies.

Examples abound:

Singapore's latest 10-year master plan relies heavily on digital technology. "AI Singapore" (AISG) is an entire national program devoted to catalyzing Singapore's AI capabilities through research institutions, AI startups, and larger companies developing AI products.
The U.A.E.'s Vision 2021 National Innovation Strategy targets core sectors including AI, software, and smart cities, and strives to encourage adoption of technologies across sectors.
Amsterdam's smart city initiative spans mobility, infrastructure, and big data, with initiatives such as using GPS data to manage traffic flows in real time, optimizing trash and recycling pickups, and replacing parking meters with pay-by-phone apps.
China's 13th Five-Year Plan calls for massive investment in next generation artificial intelligence and the internet to establish international hegemony.
Brunei Digital Economy Masterplan 2025

Just as in the corporate world, governments that adopt:

AI, big data, cloud computing, and IoT across all levels will prosper;
countries that don't will struggle to keep up.

The academic world is also taking notice

As the scope of digital transformation expands and accelerates, universities are beginning to dig in.
MIT launched the MIT Intelligence Quest in early 2018, "an initiative to discover the foundations of human intelligence and drive the development of technological tools that can positively influence virtually every aspect of society."
Recognizing the sweeping impact digital transformation will have across society, MIT announced that the outcomes of this initiative may yield "practical tools for use in a wide array of research endeavors, such as disease diagnosis, drug discovery, materials and manufacturing design, automated systems, synthetic biology, and finance."
In October 2018, MIT announced a $1 billion investment in its new college of computing focused on advancing the rise of artificial intelligence.
Executive education classes, master's degrees, and MBA programs focused on digital transformation have sprung up.
Columbia Business School's Digital Business Leadership Program, for instance, aims to "develop leadership abilities to lead digital transformation."
Harvard Business School has an entire executive education course on "Driving Digital Strategies."
MIT Sloan's "Initiative on the Digital Economy" offers a variety of research, executive education, and MBA-level classes examining the impact of digital technology on businesses, the economy, and society.
The open-ended nature of what these classes teach conveys a critical point about digital transformation: its inherent nature of constant change.

"[Digital transformation] is not a process that will ever be complete, at least not in the near future," writes Boston College professor Gerald Kane.

Rather, he writes, "new classes of technologies—

artificial intelligence,
blockchain,
autonomous vehicles,
augmented and virtual reality

—will likely become widely adopted over the coming decade or two, fundamentally changing expectations yet again.
By the time you adapt to today's digital environment

that environment will have likely already changed significantly."

Digital transformation requires companies to continuously monitor current trends, experiment, and adapt

—and academic institutions are developing curricula to teach these new capabilities to future and current business leaders.
The Future of Digital Transformation
These new technologies will boost

economic growth,
promote inclusiveness,
improve the environment, and
extend the length and quality of human life.

According to a 2016 World Economic Forum study

digital transformation will have far-reaching impact across industries

—not only in terms of economic and job growth, but in environmental benefits as well
—that "could deliver around $100 trillion in value to business and society over the next decade."

Think about the many ways digital transformation will improve human life:

In medicine

expect very early disease detection and diagnosis,
genome-specific preventative care,
extremely precise surgeries performed with the help of robots,
on-demand and digital health care,
AI-assisted diagnoses, and
dramatically reduced costs of care.

In the automotive industry

expect self-driving cars,
reduced crashes and casualties,
fewer drunk drivers,
lower insurance premiums, and
decreased carbon emissions.

In manufacturing

3D printing and manufacturing-as-a-service will allow for mass, inexpensive customization with low or no distribution costs.

In resource management and sustainability

resources will be matched with need,
waste minimized, and
constraints alleviated.

Many of these benefits cannot even be conceived of today

Consider the likely impact on productivity growth. Total U.S. economic output per worker has been stagnant since the Great Recession of 2008.
Digital transformation allows companies to use

machine learning, AI, IoT, and cloud computing
so even smaller firms can increase employee productivity and reverse this trend.

Digital progress

adds value to the national economy in ways we don't yet measure accurately.

"At first glance, free services like Wikipedia, Skype and Google don't seem to add anything to gross domestic product. But when you look closer, you see that they certainly do add value," said MIT's Brynjolfsson, who developed a method to measure the value innovative IT companies generate.

Using this method, he has found that disruptive business models such as online networks and digital services create $300 billion in value each year—value that isn't captured by the statistics or by the critics

We have to acknowledge that such tremendous change will also have potentially negative effects.

While Brynjolfsson emphasizes the benefits to overall productivity from digitization, he also points to a trend he calls the "great decoupling" of economic growth and job creation:
Despite the last 15-20 years of economic and productivity growth, median income and job growth have stagnated. What's to blame? Technology's role in productivity: machines replacing humans.

Some argue that this is a temporary shock

that has been repeated throughout history, and that jobs will rebound once workers adjust their skills and learn how to work with new technologies.

Harvard economist Lawrence Katz observes

there is no historical precedent for the permanent reduction of jobs.

While it can take decades for workers to

acquire the expertise needed for new types of employment,
Katz claims "we never have run out of jobs.
There is no long-term trend of eliminating work for people.

Over the long term, employment rates are fairly stable.

People have always been able to create new jobs.
People come up with new things to do." But this doesn't mean that we can just stand by and expect jobs to come.
As a society, we need to understand how to reconceptualize education and provide more flexible and agile workforce training programs that match the skills of the digital economy.
Five years from now, 35 percent of the important workforce skills will have changed.
We need to invest in education and basic research and admit more skilled immigrants.

And we need to address the mismatch between supply and demand for digital skills.
This means training people not only in technical skills, like coding, but also in skills that will increasingly be needed in the digital age to complement the work of machines—creativity, teamwork, and problem-solving.
As the World Economic Forum wrote in an influential 2016 white paper on digital transformation:

Robotics and artificial intelligence systems will not only be used to replace human tasks, but to augment their skills (for example, surgeons working with advanced robotics systems to perform operations).
This, too, will provide challenges for businesses, which will need to reskill employees so they can work effectively with new technology.
Reskilling will be critical to realizing the full potential of technological augmentation, both through boosting productivity and mitigating job losses from automation.

Regulations and public policy also need to keep up,

to promote entrepreneurship and encourage the founding of new companies.
Antitrust laws and tax policies need to be reconceptualized.
Skilled immigration needs to be encouraged.

We cannot predict exactly

how and where the impacts of digital transformation will fall,
but we can recognize the scale of change will be enormous.

In some cases,

it can threaten products, companies, or entire industries with outright extinction:
encyclopedias, phone books, travel agencies, local newspapers, book stores. Film and photography companies were wiped out by digital cameras.

Today the taxi industry is being threatened by

ride-sharing services like Lyft and Uber, while malls and retail stores are being upended by e-commerce.

In other cases, the disruption could create new, ancillary markets.
Airbnb

When it was first launched, many predicted that Airbnb would completely disrupt the hotel industry as travelers would increasingly choose to stay in private apartments and houses over hotels.
But the hotel industry has not crumbled—in fact, it is still thriving.
So is Airbnb. Airbnb's actual impact has been in other areas: reducing the number of homes available in a neighborhood for people to live, potentially driving up the price of rent.
Instead of competing with hotels, Airbnb is competing with renters. "Was that Airbnb's intent?
Almost certainly not," writes journalist Derek Thompson. "But that is the outcome, anyway, and it is a meaningful—even, yes, disruptive—one.
Airbnb is a transformative travel business. But most people failed to predict the thing it would transform—for good and bad.

Other industries like banking are informative.

With each new wave of innovation, banks invest in capturing that value.
Brokerages became services of retail banks; online payments were integrated; and credit card, bill payment, and financial planning offers are now standard.

Hotels and airlines

initially offered excess inventory through sites like Expedia, Hotels.com, Orbitz, Kayak, and Trivago.
But they soon captured value—and strengthened customer relationships—with their own apps that offered the best pricing and options.

The point here is that digital transformation will have profound effects, but not necessarily the effects we can predict or even measure now.
Clearly the building blocks to enable digital transformation are available, robust, and accessible:

cloud computing, big data, AI, and IoT.