Digital Transformation (ZZ-1103)
Published in School of Digital Science, Universiti Brunei Darussalam, 2022
This lesson is from Digital Transformation Handbook by John Palfreyman.
Teamwork; Process; Information; Transform; Culture; Risk Management
Teamwork
The Information Technology department own our digital transformation

A transformation will only be successful if the whole business takes ownership.

The tech department will be responsible (directly or indirectly) for delivering the technology transformation projects but

business operations and services at all levels from the CEO downwards play a critical role in owning the transformation and ensuring success through strategic alignment.

If the business abdicates responsibility to the tech team,

the transformation will fail, and investments will be wasted.
The reasons are pretty obvious.

The tech team were hired for their knowledge and experience in designing, executing and supporting technology projects.

They should get close to the business, but they will never understand day to day operations as well as their colleagues who are responsible for business specific functions.

Effective transformation requires a balanced contribution from

technology and business specialists

Once the strategy is clear, communicated and understood a balanced collaboration between the tech and business teams is the best way to guide optimal transformation.

A good way to achieve this is for the board to select and empower small tech and business teams to lead the incremental, agile transformation process reporting progress and removing blockages through periodic board interaction.

Balanced and collaborative working is key to success

Each team has something special to offer to ensure that the transformation projects make the most impact on the business and make the best use of available technologies.
There must also be balanced membership of each team.
The business team must combine operations / lines of business with business services such as human resources, finance and marketing.
Equally the tech team must include those responsible for systems and applications development but equally infrastructure, end user support and security / privacy.
Without this balance - for example, in the 'abdication' - the transformation will, at best, be non-optimal and most likely doomed to failure.
Process
A business process is

a set of linked tasks or activities
that achieve a particular organisational goal, such as the delivery of a product or a service to a customer.

A business process governs how people within an organisation collaborate in order to accomplish a goal.
Everything we do in an organisation involves or contributes to a business process.
A business process:

Exists to meet a specific business need,
describes collaboration between multiple people or groups,
takes place over a period of time,
usually has more than one iteration, and
is consistent and repeatable.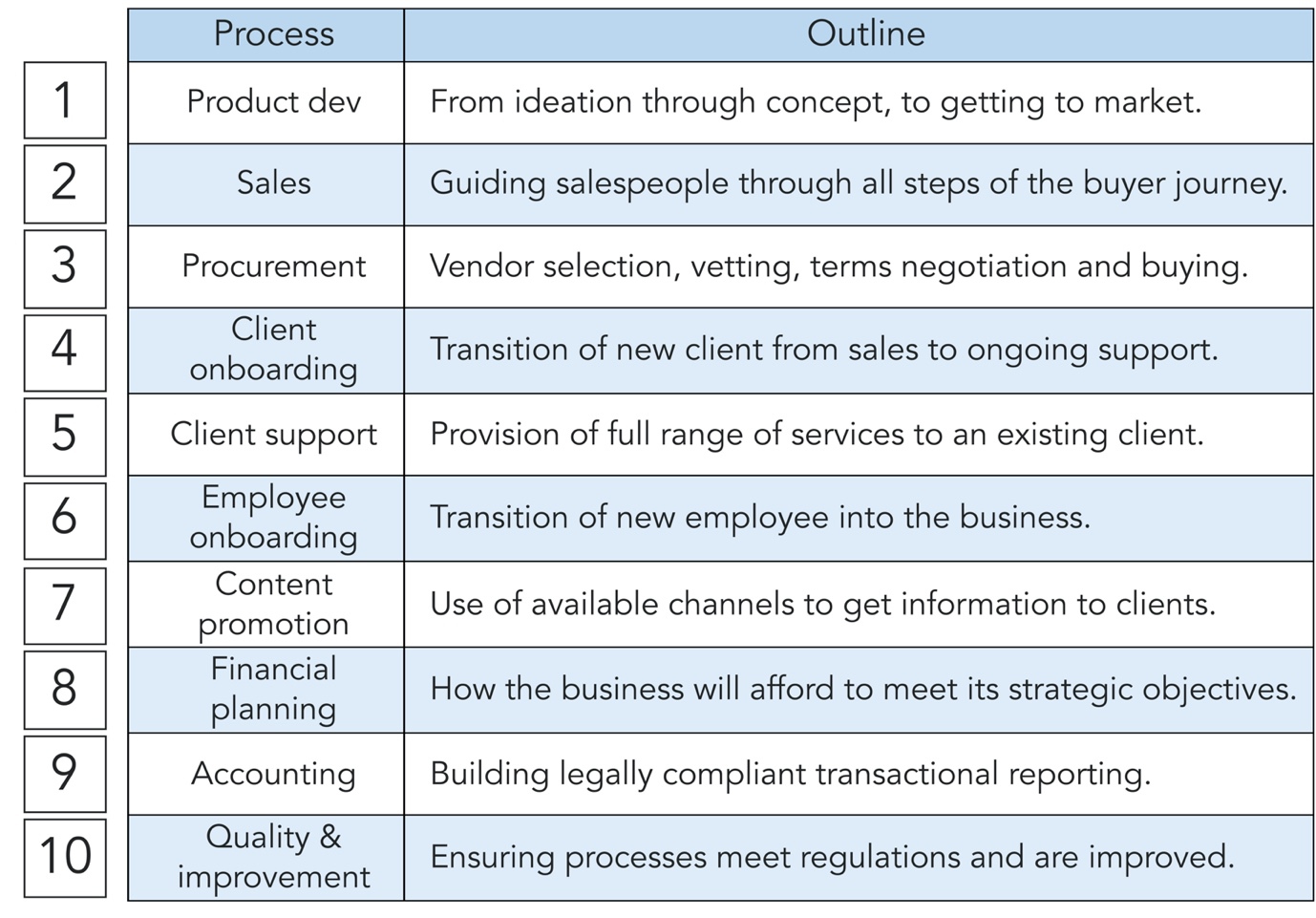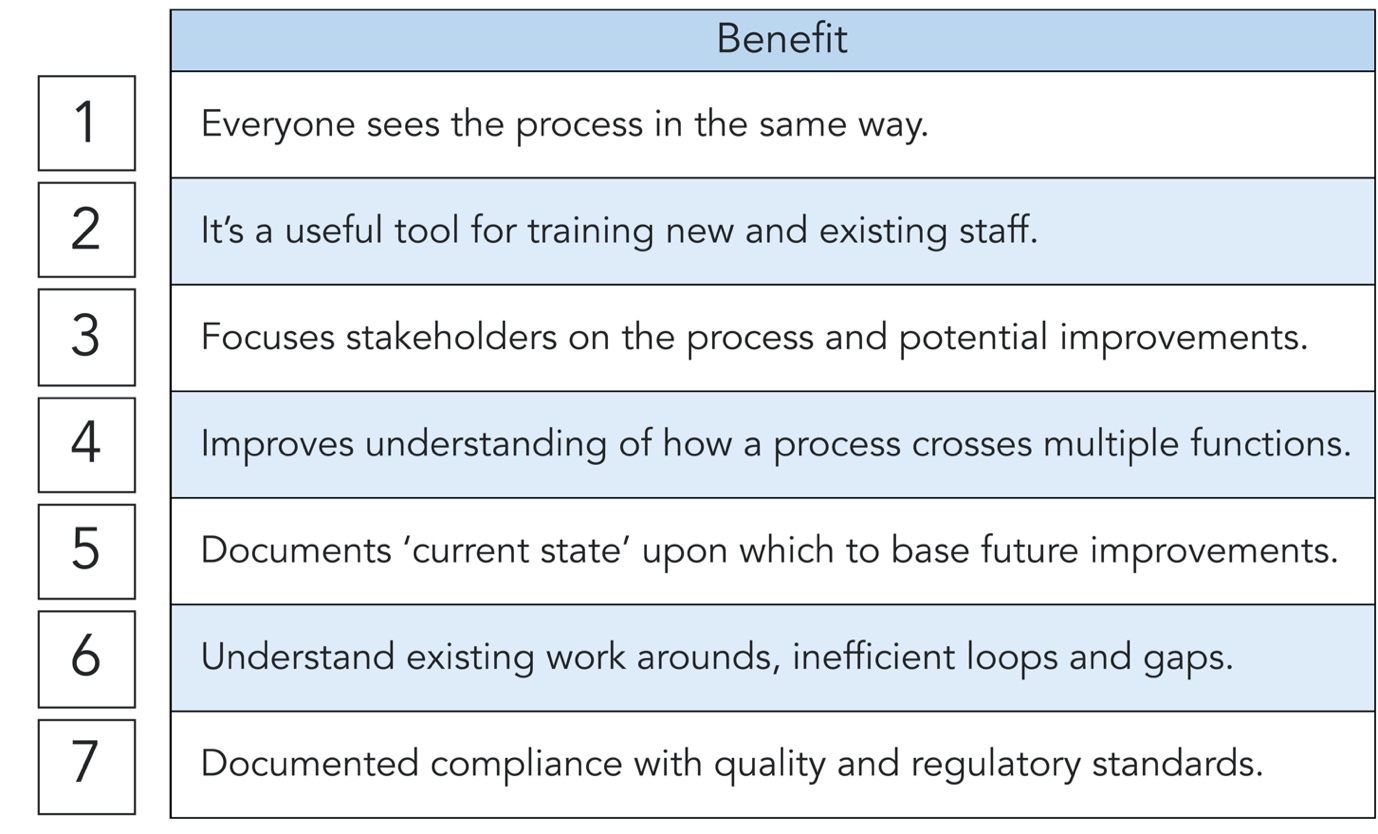 A process map

is the normal way of capturing a business process.
The map forms a visual aid for picturing work processes showing how inputs and tasks are linked and highlighting the steps required to consistently produce a desired output.

From a digital transformation viewpoint, the documented business process set will form a sound and transparent foundation for the change process.
Information
It's also important to ensure that an organisation's current information base is

accurately documented to form a sound foundation for the change process.

This will again need a 'team effort'

from the business and technology teams working together

'data' and 'information'

Business and government often use the terms interchangeably!
Data is a meaningless collection of text, numbers and /or symbols.
Data has to be processed or provided with a context before it can have meaning.
Information is produced by processing data, usually by a computer.
This enables the data to be used in context, giving it meaning.
Simply put:

Data + Meaning = Information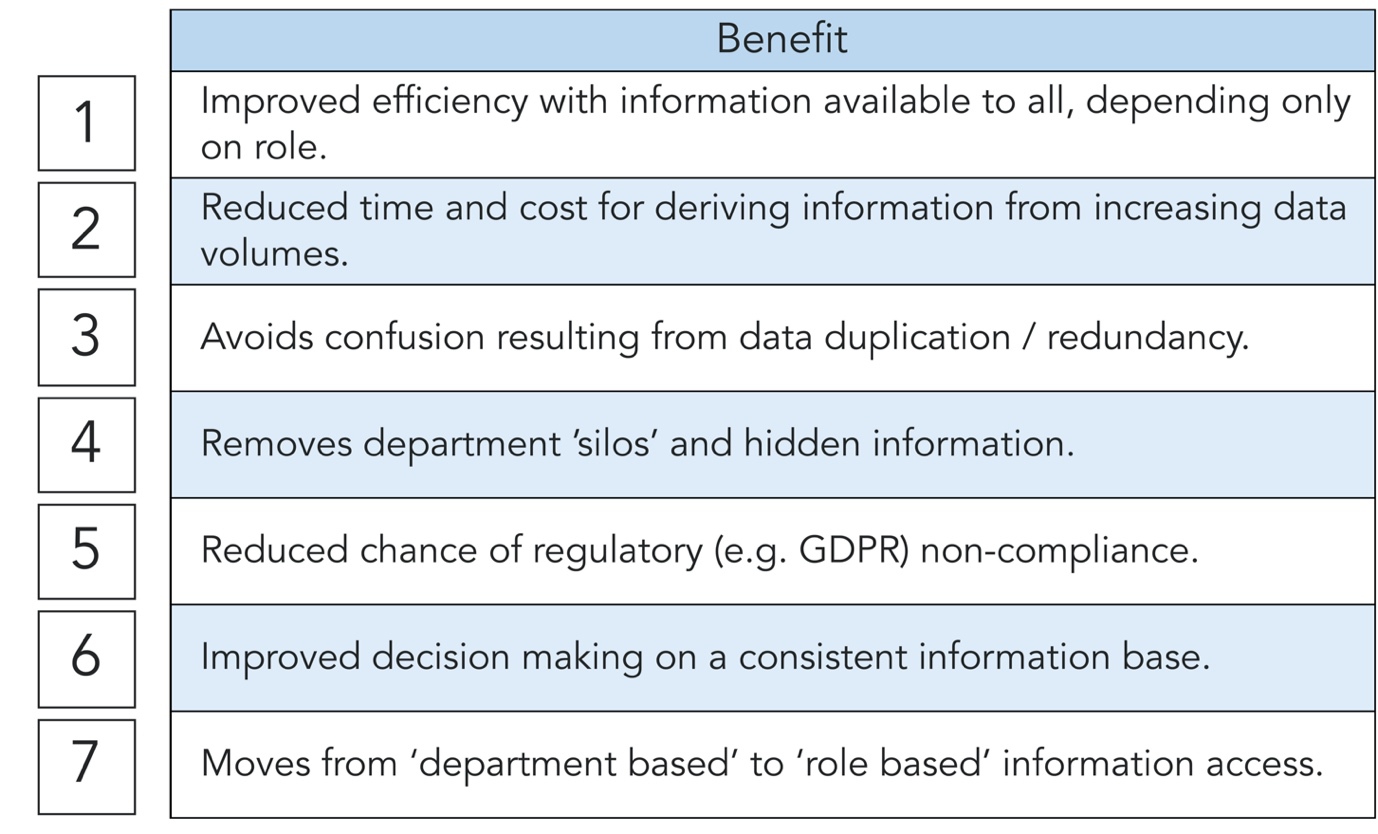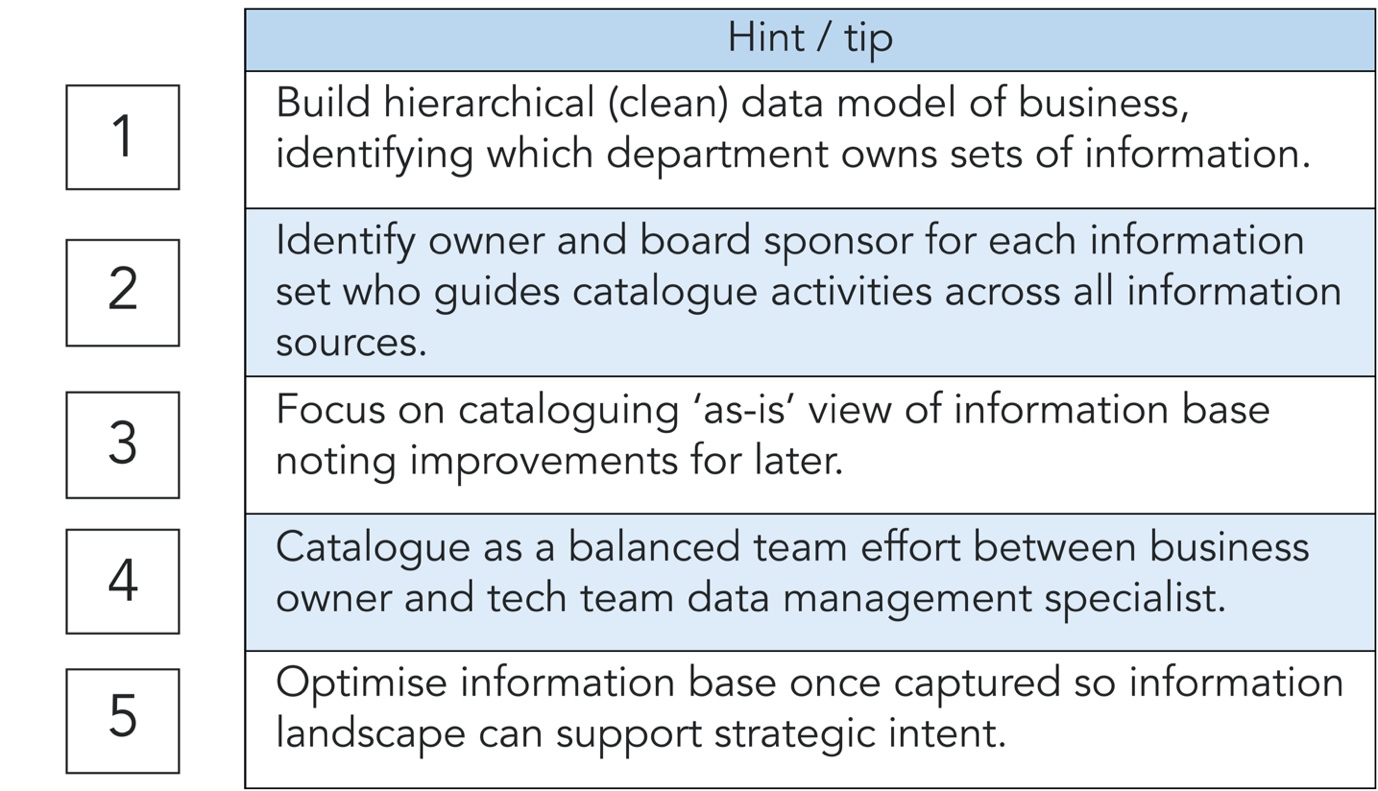 Transform
incremental and structured approach will help an organisation understand where it is, where to go next and how to get to the destination.

Most organisations and industries operate in constantly changing environments and amidst uncertainty, and therefore it's vital that the approach leverages agile best practices

The loop

Progress through the transform loop is facilitated by the tech team and business team working together.
The business team bring first-hand knowledge of how the organisation goes about their day-to-day business, and the tech team bring indepth knowledge of the technologies available for transformation.
A close, balanced collaboration will be needed for the transformation to be successful.
The transformation backlog

is an ordered list of design principles with

difficulty and strategic value

"We will do X" with integer from 0 to 9 for difficulty and strategy
As we traverse the scan to experiment steps, the difficulty and strategic value scores will change as we learn more about the application of the technology to solve the business problem at hand.
This in turn will cause the transformation backlog to be re-ordered.
At the plan and build step we choose one or more transformation backlog items to deliver to the business.
Prepare step

ensure that the organisation is ready to start the transformation.

The horizon scan

picks up the transformation backlog produced at the prepare step and finds technologies which could help achieve each design principle, collectively referred to as the 'search envelope'.
At the scan step the team learns more about the technologies in the search envelope and their ability to solve the business problem at hand.
This will result in changing the difficulty and strategic value scores of each transformation backlog element.

Prioritise

The revised score is used to re-order the backlog elements at the prioritise step which also considers interdependencies and conditionality between elements.

Learn

A subset of the transformation backlog is taken forward into the learn step, where the teams acquire deeper knowledge / awareness of the technology to further calibrate the business potential.

Experiment

comprises a proof of concept (or mini project) to calibrate the real business value to the organisation.

Plan and build

prepare for, then execute the projects needed to realise the long-term benefit in the business.

Not all elements in the transformation backlog need to be taken around the loop at the same time.
Organisational change will be capacity limited and the business and tech teams should take a measured approach to the transformation activities.
Culture
Understanding

Organisational culture is a commonly used business term that is difficult to define.

In Culture as Social Control ' O'Reilly and Chatman, define organisational culture as:

'a set of norms and values that are widely shared and strongly held throughout the organisation.'

CMI's Understanding Organisational Culture gives an expanded definition including useful 'what' and 'how' statements

'Organisational culture is a set of shared values, beliefs and assumptions about how people should behave and interact, how decisions should be made and how work activities should be carried out.'

Shared values tell employees what's important, while norms provide guidance on behaviour that align with the values.

As an example, employees might all agree that integrity is important.

Norms are needed to translate the abstract 'integrity' value into concrete behaviour.

An example of this would be the use of a behaviour framework to educate employees as to what's expected of them. Another example would be the use of 'whistle-blowing' when employees notice malpractice in action.

Measuring

'If you cannot measure it, you cannot improve it.' Lord Kelvin

But measuring culture is hard! Dr Allen Zimbler, Formerly Chief Integration Officer of Investec stated

'Culture might be possible to understand, but is very difficult to measure – how does one measure something as intangible as a pattern of assumptions emerging within a group, and shifting, dynamically, as the group begins to change, within a field that is constantly changing?'

Importance

Where advice for cultural change is offered, this will be covered in the 'Changing' section

Changing

Can we understand how employees react when faced with change?
Are there approaches we can use to change behaviour and culture so that digital transformation has a better chance of success?
Fixed mindset

is where people believe basic qualities like intelligence and talent, are fixed traits that cannot be developed or enhanced over time.
People with fixed mindsets tend resist challenges that hold the risk of failure.

Growth mindset

is where people believe their capabilities can be developed through proactive, focused effort with support from others.
Growth mindset leads to a love of learning and a pursuit of new experiences leading to personal improvement.

Culture of genius or a culture of development

Advice to shift mindsets

Leading

Mindset and comfort zone explain why we act the way we do when asked to change.
But what causes these responses?
And could an organisation encourage us to act in a different way to change, adopting a growth mindset and having the courage to act outside our comfort zone?
Leadership has a key role to play in this through their direct and indirect influence on organisational culture and employee behaviour.
Risk management
Lots of things can go wrong with a digital transformation.
The effects range from the process going slower and costing more than expected to total loss of stakeholder confidence resulting in cancelled investment.
The agile, incremental approach is a powerful way of guarding against this and this should be augmented by proactive risk management approach.
Risk management is an essential component of project management, irrespective of the project size and complexity.
Proactive and transparent risk management should sit alongside the transformation journey.
Risk management is

'The forecasting and evaluation of (financial) risks together with the identification of procedures to avoid or minimise their impact.'
It will be part of a project manager's 'DNA'; indeed, the best project managers will 'live and breathe' risk management, essentially by thinking ahead and being proactive and creative in managing risks.
Conversely, the lack of risk management is cited as one common reason for project failure.
Risk identification is

'The process of determining risks that could potentially prevent the project from achieving its objectives.'
It is arguably the most critical step in risk management.

Simply put, if a risk is not identified it will not be contained or mitigated.
The best way of identifying risk is through a team brainstorm and it's useful to categorise the risks as:

Business risk - from outside the project
Product risk - e.g. technology
Resource risk - e.g. complexity
Schedule risk - tasks take longer than plan

Review through playback with team members and stakeholders is good practice once the risk identification brainstorm is complete.
Risk analysis follows, to consider

'What can go wrong, how likely it is to happen, what the potential consequences are, and how tolerable the identified risk is.'
Common transformation risks
Risk 1: Strategy absent or 'bad'

starting a transformation without a clear strategic purpose is sub-optimal at best or foolhardy at worst.
Best mitigated through a clear method for strategy formulation

Risk 2: Poor 'buy in' to strategy

the best strategic clarity is worth nothing if not communicated to and understood by the whole organisation and their key stakeholders.

Risk 3: Unclear transformation ownership

I hope by now that no-one thinks that the digital transformation is owned and executed solely by the tech department!
The journey must be a 'team game' sponsored by the board and executed by a combination of tech and business practitioners.

Risk 4: Expectation of 'digital magic'

technology can do anything, right?
It's certainly amazing what tech can do when directed at an appropriate business challenge.
But tech for tech's sake may be fun, but is unlikely to result in sustained competitive advantage.
Best mitigated by an incremental, stepwise approach to transformation

Risk 5: Culture 'set wrong'

if organisational culture is fixed in past ways of working and not open to continuous change and growth then the transformation will fail.
This (bold) fact is substantiated by many case studies into why transformations don't achieve their full potential.
This is best mitigated through cultural sensitivity

Risk 6: Leadership 'talking' but not 'walking'

leadership play in a pivotal role in digital transformation.
If they 'talk up' transformation then fail to fully embrace digital in the way they work, this will be noticed by the employee base and the transformation will be sub-optimal.
If they fully embrace digital, it's much more likely to succeed.
Best mitigated through cultural and leadership approach

Risk 7: Locked into 'push strategy'

the development of a strategic vision then execution as a complex, multi-faceted project is the 'traditional' way to go about strategic change.
This is referred to as 'push strategy' and is akin to viewing the organisation as a machine

get the inputs right,
ensure the machine is programmed correctly and
the right outputs will follow.

But there is a better way

which is to set the climate for the whole organisation to 'pull' the business in the right direction.

The analogy here is treating the organisation as an organism that adapts and changes to external stimuli.

Risk 8: Talk agile, rigid in practice

the concept of agility is much harder to do than talk about.
But strategy and transformation effort must adapt to the inevitable changes outside and inside an organisation so it must be agile.
This is mitigated by embracing strategic agility and continuing this into the transformation processes

Risk 9: Experiments then stall, not scale

it's much harder to realise long production benefits from the use of new technology than to conduct a successful experiment.
Experiments should be expected to fail, but production development is harder to do and can be an expensive mistake if the predicted business returns do not follow.
There are several ways to mitigate this risk, ranging from a standard risk management approach to care in the 'plan' and 'build' steps.